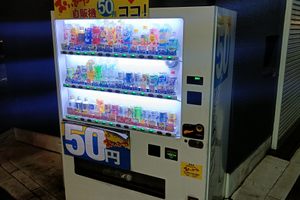 Japan is home to around 4 million vending machines that bring in billions of dollars in combined revenue every year. These machines most commonly offer drinks and snacks, but some offer more unusual fare like snow monkey-inspired pudding or chocolate-filled crepes. While the vending machines are usually affordable, there are some in the Fukushima ward of Osaka that offer goods for just 10 yen apiece.
With current exchange rates, 10 yen is equivalent to about 7 cents in the United States. Of course, there are some caveats, the main one being that you do not know what you are buying, as the windows that usually show the product have a large sticker pasted over them.
So why are these machines so cheap? The owner is said to own a wholesale beverage company and uses these machines as a sort of clearance rack. They're filled with cans and bottles that are nearing their expiration date or past their peak demand season.
Because of this, it is always a mystery what kind of drink you'll find inside (although they all seem to be cold). Your mystery drink can vary from traditional cola to some kind of tea or maybe an energy drink. It is hard to guess how many different drinks are put into the machine each day, but most visitors seem to find it to be stocked only with one type on any given day.
The machine is trendy amongst locals and runs out of everything in a short while, so try to visit it early in the day. In the words of the Japanese text on the machine: "Let's enjoy what drinks will be served." 
Besides the 10-yen machines, some "mystery item" machines give candy and snacks, as well as 50-yen machines that sell cheap off-brand drinks. Most other machines in Osaka and the rest of Japan charge around 100-150 yen per drink.