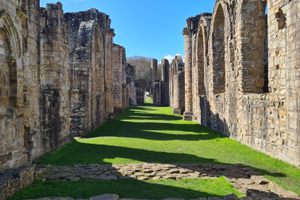 Finchale Priory was founded in 1196 upon the site of St. Godric's Hermitage. Originally a sailor, although some would say a pirate, St. Godric visited Lindisfarne, where he underwent a religious conversion and gave up a life on the seas to devote his life to religion. (Godric was never formally canonized, so the term "saint" is a bit of a misnomer.)
Following a long illness, perhaps brought on by the hardship of his self-imposed ascetic lifestyle which included sleeping outdoors in all weather, Godric died in 1170. After his death, two monks were sent to occupy the hermitage. 
The main buildings of the priory date to 1237, and the church was completed in 1277. It didn't become a priory in its own right after Henry du Puiset, the Bishop of Durham's son was convinced to bestow upon it sacred items previously held by another monastery. Finchale was never a wealthy priory, and during much of the medieval period, there were four permanent monks living there. While Finchale prospered as a pilgrimage location, it only supported 10 monks until 1278 when five more were sent to provide support.
During the early part of the 14th century, many monasteries in this region were downsized, partly due to the reduced income following years of warfare between the Scots and the English. This left the building in a poor state of repair, with little in the way of finances and only about five monks.
The priory was eventually downsized and linked to Durham Cathedral, acting as a sort of "holiday home" for the monks.  Like other monastic establishments, Finchale was then dissolved by Henry VIII in 1538, falling slowly into ruin and robbed of stone to build the nearby farm.
During the 18th century, parts of the ruins were landscaped to create a more "romantic" location that appealed to the design sensibilities of the time. 
There is actually a decent height left to the ruined walls. There are two stories in places, which allows you to work out how big the priory must have been originally. The best-preserved feature is the vaulted undercroft of the frater, with ribbed vaulting dividing up the interior into a series of bays.