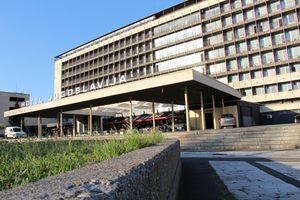 Located on the Boulevard of Nikola Tesla, Hotel Yugoslavia is a historic hotel located in Belgrade, the former capital of the state after which the building is named. It holds great cultural and historical significance as one of the city's most iconic landmarks, holding nostalgic value for many people who remember its role as a luxurious meeting place in Yugoslavia. What's more, it was visited by a plethora of highly renowned international celebrities, politicians, athletes, and artists since its construction, including Queen Elizabeth II, Richard Nixon, Neil Armstrong, and Belgian and Dutch royals.
After it was built in 1969, the hotel quickly became a symbol of the modernization and progress of Yugoslavia. It was designed by a team of prominent Yugoslav architects led by Lavoslav Horvat, and features a distinctive Brutalist architectural style on the banks of the Danube. Over the years, the hotel has undergone renovations to update its facilities and amenities while preserving its architectural character.
In its heyday, it was a five-star hotel, laced with chandeliers and lavish silver and gold elements, but today it is a more affordable three-star hotel that offers a range of comfortable accommodations. It is without a doubt that the hotel has faced challenges and changes over the years such as being severely damaged in the NATO bombing of the 90s. It will, however, eternally remain a recognizable symbol of Belgrade's history and architectural heritage. 
Today, Hotel Jugoslavija continues to welcome guests from around the world, offering a blend of modern comforts, historic charm, and beautiful riverfront views. It serves as a reminder of the city's past, with many solemn documentaries such as Hotel Yugoslavia (2017) having been filmed about the once full-of-life hotel in the quaint neighborhood of Zemun.