Manchester United chief executive Richard Arnold is to leave the club by the end of the year.
Arnold is to leave after just two years in the job as United's owners finalise the sale of a minority stake to the petrochemicals billionaire Sir Jim Ratcliffe.
He will hand over operational control of the club immediately and will be replaced as interim CEO by Patrick Stewart, who will also retain his role as general counsel.
The shake-up in United's leadership comes just days before the club is expected to confirm Sky News' exclusive that Ratcliffe's INEOS Sports is acquiring a 25 per cent stake.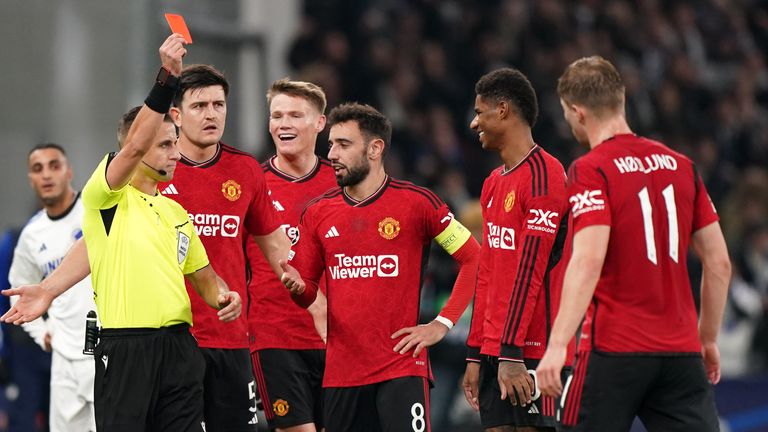 Arnold has been at United since 2007, replacing Ed Woodward in the top executive job early last year.
Joel Glazer, executive co-chairman, said: "I would like to thank Richard for his outstanding service to Manchester United over the past 16 years, and wish him all the best for his future endeavours. We are fortunate to be able to call on the deep knowledge and experience of Patrick Stewart to provide interim stability and continuity as we embark on a search for a new permanent CEO."
Arnold added: "It has been an incredible privilege to serve this great football club for the past 16 years. Through highs and lows, the constant has been the dedication of our employees and fans. I would like to thank all of them for their loyalty and commitment, and wish everyone associated with the club the very best for the future."
Insiders said he had succeeded in modernising the structure of United's football operations, even as the men's first team struggle in domestic and European competitions under manager Erik ten Hag.
Under Arnold, United won their first trophy in six years by beating Newcastle to win the Carabao Cup, and delivered industry-leading commercial deals with adidas and Qualcomm.
FREE TO WATCH: Highlights from the Premier League match between Manchester United and Luton

FREE TO WATCH: Highlights from Manchester United's win against Fulham in the Premier League

The last year has, however, been one of turbulence amid ongoing uncertainty about the club's future ownership.
A strategic review was initiated by the Glazer family almost a year ago, although it is expected to be resolved next week with confirmation of Ratcliffe's arrival.
Analysis: Arnold the first of many exits – but expect turmoil to remain
Sky Sports News' Kaveh Solhekol:
"That statement from Man Utd talked about continuity and stability but of course there has been very little stability at United for a long time. The club has been in limbo for at least 12 months while the Glazers have been trying to decide whether to sell the club or just sell a minority stake in the club.
"We know in the next few days it's going to be announced Sir Jim Ratcliffe and INEOS have bought a minority stake in the club and it's going to give them influence over the football operations.
"Richard Arnold is going to be the first of quite a lot of high-profile people who are going to be leaving the club.
"He's had one of the hardest jobs in football. It's not easy running Man Utd at the moment, it's not easy working for the Glazers. He's had a pretty torrid time for 18 months. He's been at United for a long time, his background is in the commercial department, I think he was much more comfortable in that environment. Whoever bought the club, it was likely people like Richard Arnold would be leaving.
"It's significant Patrick Stewart being called 'interim CEO'. It probably means he's not going to be around for very long. If Ratcliffe gets the kind of influence we believe he's going to get, he will be able to influence who is going to take that job on a full-time basis.
"There has been a lot of talk it is going to be someone who already works for INEOS Sports, Jean-Claude Blanc, somebody who used to have senior executive roles at clubs like Juventus and PSG.
"But looking at it from the outside this still looks like an all mighty mess. We're going to have a situation where someone who only owns 25 per cent of the club is going to be calling the shots. There is going to be a new football operations board. Dave Brailsford, somebody who has a lot of experience in cycling, is going to be somebody who is going to be calling the shots at Old Trafford.
"It's going to be a fantastic story for journalists but if you're a Man Utd supporter, this is not the brave new world you wanted. It's more uncertainty, it is more turmoil and it's more of the Glazers owning Man Utd."