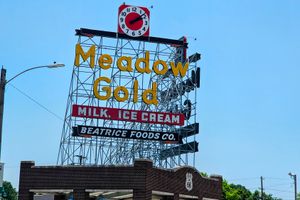 When Johnny Cade said to Ponyboy, "Stay gold," in the beloved Tulsa, Oklahoma young adult classic The Outsiders, it's unlikely that he was referring to the nearby sign for Meadow Gold Dairy. Yet for decades, the City of Tulsa worked to make the classic Route 66 neon sign would glow again.
Meadow Gold Dairy was a regional brand owned by Beatrice Creamery Company, an early 20th-century food conglomerate. In 1934, the sign was constructed by the Claude Neon company, built a few blocks from where it now stands. The neon glow became a Route 66 icon and a sleek complement to Tulsa's Art Deco landscape.
Time was unkind to the sign, and it began dimming by the 1970s, eventually losing all its glow, as Beatrice Foods sold the Meadow Gold brand to Borden and slid into bankruptcy. By 2004, the building was scheduled for demolition. Route 66 enthusiasts and historic preservationists rallied around the sign, eventually securing funding. The Tulsa Foundation for Architecture led the charge to dismantle the sign and move it to a permanent location. The Claude Neon company pitched in, restoring and replacing pieces of the sign, and ensuring that it would once again glow. On May 22, 2009, the buzz of neon was back.
The sign is now erected in a plaza along Route 66, within view of Buck Atom and other roadside attractions. The plaza contains several interpretive plaques, about the land, the sign, the company, the neon, and the preservation efforts. And, as a cherry on top of a Meadow Gold ice cream sundae, in 2016, the clocks that had been missing for decades were restored as well.