The £124m contract includes main construction work for the new station for Essex County Council and Chelmsford City Council.
This phase of the work includes the construction for the new station facility, the associated infrastructure, and progress towards opening to train services for the benefit of passengers.
An initial £37.8m contract for civil engineering works, including earthworks and track modifications, was awarded to J Murphy & Sons in January 2023.
The station build contract award was possible following a recent funding agreement between Network Rail and Essex County Council to complete the construction of the new station.
The station is being built to support the development of Beaulieu Park estate in Chelmsford with new road infrastructure and up to 14,000 homes. It will be the first railway station to be built on the Great Eastern main line for more than 100 years.
The new station has been designed to support the economic development of the Beaulieu area. It will have:
three platforms with a central loop line and new tracks to enable stopping services to call at the station while allowing fast trains to pass through unimpeded
step free access to all platforms with lifts
accessible toilets, baby change facilities, waiting area and space for retail/catering
pedestrian and cycle access routes to the station
parking for 700 cars and 500 bicycles
a bus interchange
pick up and drop off area with taxi bays.
Beaulieu Park station is expected to be completed by the end of 2025. Once open, the station will be managed by train operating company Greater Anglia. 
Katie Frost, Network Rail's route director for Anglia, said: "J Murphy & Sons have made an excellent start with the enabling and civils works and this contract award will allow us to seamlessly continue to deliver this amazing new station for Chelmsford without pause.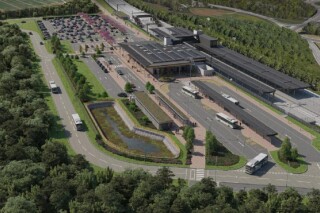 Beaulieu Park station is an excellent example of what the railway industry can do when working in partnership with local organisations to improve the railway for the benefit of communities and businesses by delivering a new station for the Beaulieu community."
Murphy managing director for transportation, Chris Cayton, said: "Significant progress has been made by the Murphy team over the past few months, including modification to the rail systems, groundworks and piling for the station building. In the coming months residents will see their new station take shape, as the platforms are constructed, and the steelwork is erected, ahead of major commissioning of the railway infrastructure at Christmas."