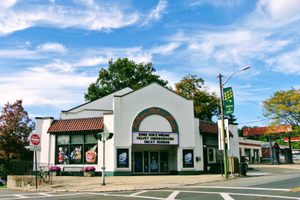 The Picture House is a beloved movie theatre that carries popcorn, soda, and that good old-fashioned charm.
As one of the few remaining single-screen theaters, It was rescued from the brink of demolition in 2001, and a non-profit dedicated to its upkeep, Pelham Picture House Preservation, was established. It has since been rebranded as The Pelham Picture House Regional Film Center and added to the National Registry of Historic Places in 2010.
Celebrating its centennial in 2021 did not only celebrate its resiliency as a cultural hub but also the countless community events that it proudly hosted and displayed on the marquee, including (but by no means limited to) watching a local Olympians race live on the big screen, children's parties, and school events.
So whether you're a film lover, a history buff, or just someone who is looking to eat some good old-fashioned popcorn, the Picture House is the perfect way to spend your afternoon.