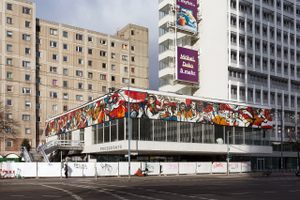 While Berlin has been unified for over 30 years now, there are still many reminders of the times before that. From a stark change in the architecture to Soviet monuments. Perhaps one of the more striking is an old press cafe that sports a massive fresco dedicated to the media.
Built in the early 1970s, the cafe is part of the much larger 'Haus des Berliner Verlages,' which then was a state-of-the-art publishing house. 
The cafe, which hangs from the building and is only accessible via a floating staircase used to be the premier meeting place for journalists of all kinds, due to its unusual access to various Western publications. Today the building is best known for the fresco that lines it. Designed and implemented by painter Willi Neubert, the work titled  Die Presse als Organisator ("The Press as Organizer") has drawn much criticism from the beginning due to its seemingly negative depiction of Karl Marx.
These days the building stands empty as it is undergoing a long renovation to bring it up to modern standards, which includes installing elevators for accessibility and a second exit for safety. However, once this is complete the plan is to reopen it as a restaurant.